• Tesoro EXcelerator Search Coils: These aftermarket coils are manufactured in Bulgaria by the world-renowned "Detech" company. For the last eight years these coils have been finding the deepest buried treasures that elude almost every other search coil. When you want to maximize the performance of your metal detectors, the EXcelerator search coil is the only choice you should make!
You always get more for your money at Kellyco Metal Detectors.
LOOK BELOW ON THIS PAGE TO SEE PICTURES OF THE TRAINING AND
CERTIFICATION OF OUR SALES STAFF.
Tesoro Metal Detectors are quality built detectors backed with a lifetime warranty. Tesoro metal detectors are excellent for all types of treasure hunting, be it for coins, rings, relics, or gold.
Kellyco Metal Detectors is an authorized Tesoro Metal Detector Dealer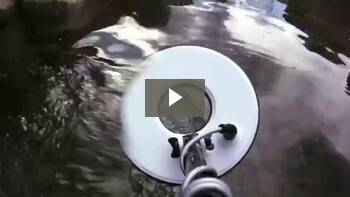 Tesoro gladly presents their latest
nation-wide media commercial!
Tesoro Electronics has been producing premium quality Metal Detectors since 1980. We are proud to offer these products at the absolute best value. We hope that you will find exactly what you are looking for at Tesoro Electronics, "The Name That Means Treasure!".
Tesoro Certification Training For Kellyco Employees
The Family that Prospects Together, Prospers Together.
Prospecting for treasure is a fourth-generation family passion for James and Vince Gifford, and they're justifiably proud of their "Made In America" Tesoro Metal Detectors. Their father, Jack, founded Tesoro in a Phoenix, AZ, garage in 1980—the result of his affinity for electronics combined with the treasure-hunting legacy handed down to him by his father and grandfather.
At the turn of the 19th century when gold fever was running high, Morgan Gifford, Jack's grandfather, moved his family from their ranch in Idaho to Oregon, where he started a gold mine. Prospecting was a family affair, with Morgan's sons Aubrey and Norval (Jack's father) working in the mine together. During harvest season, though, the family's focus changed; they labored as farm hands and traveled across Idaho, Montana, North and South Dakota. It was during one of these harvest times that Norval met his future wife, Mayme. They soon married, and Norval moved his family to Arizona, where he worked for the Inspiration Mine in Miami, one of Arizona's richest copper-mining areas.
Norval and Mayme had three children: Glenna, Gloria, and Jack (who was born in Miami, AZ). After several years of mining and as his family grew, Norval relocated to Phoenix and took a job with Arizona Public Service (APS). When Jack graduated from high school, he tried several different jobs before becoming an Electronics Engineer. Before long it was clear that Jack's inherited talent for creating electronic instruments had grown – along with his love of the historic City of Prescott – into a true calling. Jack's vision for a company of his own was fulfilled in 1980, when with the help of his wife Myrna, Tesoro Electronics was founded. It took nearly a decade more before their dream of living full-time in Prescott became reality, but in 1991 the Gifford family - and Tesoro - were finally home.
Just as his father and grandfather had done, Jack shared his love of the hunt for treasures with his sons James and Vince. He involved them in every aspect of the family business, and the boys couldn't have hoped for a more dedicated teacher. They learned all about the rich history of mining and prospecting, the wide variety and evolution of tools used over the years, and how radically things had changed since their great-grandfather Morgan Gifford had begun his Oregon gold mine so many years before. Jack taught James and Vince the importance of quality and meticulous attention to detail in Tesoro's manufacture of metal detection instruments, keeping them abreast of all the latest developments in technology. The boys were hooked. In 2004, Jack and Myrna were finally able to retire, knowing that the family business would now be in the capable hands of the sons who so fully embraced their twin passions: treasure hunting and Tesoro.
With Vince at the wheel today, Tesoro – the name that means treasure – remains an industry leader, with an exciting array of quality metal detectors, all backed by lifetime warranties. Jack and Myrna's sons continue to carry the family legacy with pride, sharing the pleasure of modern-day treasure hunting with their growing family of satisfied customers worldwide.
Sales Staff
- Kellyco Factory Certified Metal Detector Experts
Some employee's have their own personal section with product reviews, personal opinions and customer comments. Click on your metal detector expert to access their metal detecting advice.