Metal Detector Accessories:
Long Handle Scoops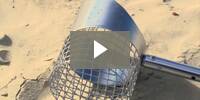 Scoops are probably one of the great time savers for detectorists especially in sand or loose dirt.
Why take minutes to move sand from one side to another to find that coin or ring, when ONE SCOOP will do it in seconds!
Take a look at the video on the right
to see one of our scoops, the Beachmaster 2 in 1 Adjustable Hand Scoop, in action.
NEW Pro Handle
Only $19.95
- Save your back while digging on the Beach!
The ProHandle is an ergonomically designed auxiliary handle that is "added on" to any Long Handle Scoop, shovel, rake etc. The design encourages one to work with a more erect, less stressful posture, reducing strain and injury to lower back muscles and joints.
(click to enlarge)
(click to enlarge)
Features:
Get more leverage!
Made from the Strongest made Reinforced Nylon!
All stainless steel hardware!
Works with any strong Long Handle Beach Scoop!
The ProHandle is Strong and Fully adjustable!
The ProHandle is lightweight! 1lb 2oz.
Extends the life of your Scoop by reducing the stress on the basket!
Easy to Move from Scoop to Scoop!
Can also be used on Shovels, Rakes, brooms etc.
Comes in an High visibility Lime Green color